espresso
Awesome. I doubt if it's to scale though (not to mention it's very rare). The other discovery of the afternoon is that
Playset B
comes with an
alternate nendoroid hand for gripping objects
. I only found out when I randomly browsed the Phat Company blog. No wonder Playset B sold out first on HLJ! I was already content with having just one room but now I'm thinking that if I have the other half, not only will I have the much needed appendage (...), I'll also have an easier time taking pictures of the setting without having to avoid angles that show where the wall cuts off.
This is getting ridiculous.
[edit]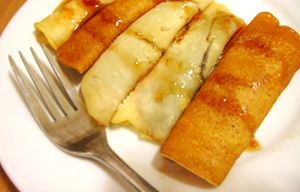 Today's mishap: overly thin pancake batter, which I turned into faux crepes with strawberry jam filling. Luckily the jam was tart so the whole thing wasn't overly sweet.