espresso
I think there is something wrong with the tea set I got.
I got a tray, a pot, two cups, and two "tea" fills for the cups. Like the cups, one "tea" fill was bigger than the other. Pop the bigger fill in the bigger cup, no problem.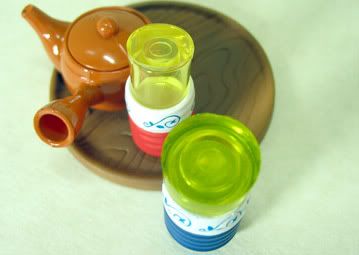 But the "tea" wouldn't fit! At all! I could put the bigger fill inside the pot but why would I do that? In the end I had to put the smaller fill in the bigger cup and keep the smaller cup empty.
I only needed one cup anyway.
Still, it's kind of a shame.
I got another set, but it's a Megahouse one instead of Re-Ment. Review to follow.
Also, I'm iffy on getting Playset B now, so even though half a room looks really half-assed, I'll just have to make it work.